Habitat / Amsterdam (2021) 1h45min
Habitat is Doris Uhlich's biggest choreography in open space to date. The naked bodies of 35 people flick, vibrate and slap against each other to electronic sounds and abstract techno tracks. The performers celebrate their unity in diversity. As individuals and as a crowd at the same time they conquer the space in a choreography that is captivating, highly energetic and, at times, collectively reposing. Frascati is transformed into a habitat full of unexpected life forms – the audience moves about freely in the available space. The project transcends conventional ideas of the body, of dance and of nakedness in a subversive manner.
Habitat is a utopia. A shameless but also a free-of-shame hymn to a naked body beyond cultural inscriptions and conventional ideals of beauty. The body is not devalued to the level of a fetish, an object; and carnality is neither metaphorically nor poetically ideologized but understood in a material sense and is therefore presented in all its mass and weight yet also in its fragility.
Habitat can be developed in different places with local people. Doris Uhlich is interested in working with large ensembles, which are developed temporarily at specific places in order to transform dance into a collective ritual.
10 & 11 November 2021 / 21:00
Frascati
Nes 63
1012 KD Amsterdam
Netherlands
Concept, Choreography Doris Uhlich
Dancers:
Philemon Mukarno ,Merel Steenbrink, Anna Siller, Avantika Tibrewal, Azad Jamshidnezhad, Bella Bouman, Cees Chaudron, Chris van Berge Henegouwen, Ella Max Jonker, Ingeborg de Lange, Inger Marin van den Berg, JongSung Myung, Klaus Lengefeld, Luise Kostopoulos, Maria Tepper, Mim Schneider, Olga Tamara Briks, Rolf Steenwinkel, Rolf van der Tang, Saeed Asadsangabi, Sarah Hanses, Stefan de Groot, Ute Frederich, Clément Charier, Dine Mentel, Jiayun Zhnag, Sissi Grasser, Hannah Sampe, Vera Rosner-Nógel, Akari Takimoto, Anne Chris van Doesburg.
Gezien op 10 november 2021, The Gathering, Frascati, Amsterdam.
Kester Freriks
11 november 2021
Als een reusachtige roos van vlees liggen 35 naakte performers op de grond, hoofd tegen ander hoofd, voeten tegen elkaar, schouders tegen dijen, hoofd op iemands buik. De toeschouwers staan eromheen, lopen rond deze rozet van blote lichamen. Het enige stukje stof dat sommige performers dragen is een mondkapje.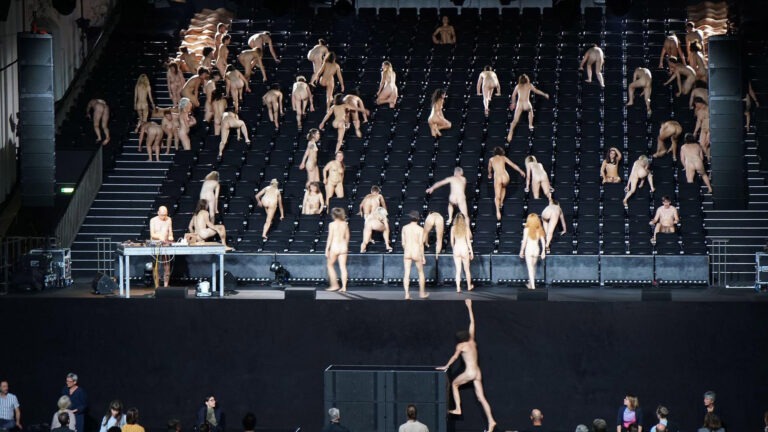 Verder is iedereen geheel ongekleed, jong en oud, man of vrouw, van alle leeftijden en nationaliteiten. Zelfs een vrouw in een rolstoel met verlamde benen is onderdeel van Habitat/Amsterdam van de Oostenrijkse choreograaf Doris Uhlich. De lichamen vibreren, trillen, dansen, zwiepen, benen worden gespreid, het is een hedendaagse Tuin der Lusten van Jheronimus Bosch. Volgens Uhlich is haar choreografie een 'loflied op het naakte lichaam' en de theaterzaal waar het zich afspeelt een 'utopische plek'.
Het is knap van de performers dat hun naaktheid geen enkele belemmering is welke dansbeweging dan ook te maken. Als toeschouwer word je gedwongen tot het stellen van vragen. Is dit een provocatie of juist een eerbetoon aan het blote lichaam? Is dit erotiek? De vibrerende bewegingen van vrouwen geknield op de vloer grenzen aan pornografie, maar dat is het niet. Wij, de toeschouwers, ondervinden schaamte om te kijken naar al dat bloot, kronkelend en zwetend vlak voor je voeten.
Het publiek loopt tussen de dansers door, opeens gaat een van hen vlak naast je liggen of duwt zijn of haar lichaam al fel heen en weer bewegend tegen een van de zuilen van Frascati 1. Op de grond blijven natte plekken van het zweet achter. De invalide vrouw die in en uit haar rolstoel kruipt, met krachteloze benen, doet je huiveren, maar is dat allemaal terecht? Schoonheidsidealen van slank en jong, waar de reclamewereld ons murw mee slaat, veegt Uhlich in een keer van tafel: sommige dansers zijn diep in de zestig of zeventig, met een door leeftijd getekend lichaam.
De groepschoreografie wordt voortgestuwd door elektronische klanken van de ook al naakte DJ Boris Kopeinig. Technobeats transformeren de zaal tot een naaktdisco. De dramatisch opbouw is opmerkelijk, en daarmee overstijgt Habitat/Amsterdam de simpele provocatie. Eerst bewegen de performers zich vrijelijk door de ruimte, soms slaat de hitte van dat ene lijf zomaar op jouw gezicht, zo nabij is het vaak. Dan bewegen ze zich naar de galerijen van Frascati en opeens nemen ze plaats op de stoelen van de tribune: daar zit als het ware een naakt publiek dat kijkt naar de bezoekers op de speelvloer.
De muziek gaat in golfbewegingen van extreem luid en ritmisch tot verstild. De 'habitat' uit de titel, dat letterlijk 'leefomgeving' betekent, is de vrijplaats voor onbeschroomde blootheid. Uhlich bracht de voorstelling in Wenen in samenwerking met Tanzquartier Wien. Daar maakte ze ook een Covid-19 versie met de naakte lichamen bedekt door plastic. Het was haar directe antwoord op de gevolgen van de coronacrisis, waarin er een groot taboe rust op lichamelijke intimiteit en nabijheid van de ander. Mondkapjes en afstand deden ons zelfs vrezen voor de ander.
In elke stad werkt Uhlich met nieuwe performers, zo ook in Amsterdam, vandaar de titel Habitat/Amsterdam. Een performance vol intimiteit als deze bijwonen is óók een nieuwe ervaring voor het publiek. De traditionele afstand tussen zaal en podium is opgeheven, soms kijken de naakte dansers je recht in de ogen en doorbreken met hun dichtbijheid je comfortzone. Tegen het einde neemt de technobeat in tempo toe, de performers gooien de armen de hoogte in en heel de speelvloer lijkt een uitzinnige vrijheidsdans, een roes van zwaaiende armen en dansende lichamen.
Opvallend is dat er eigenlijk geen band ontstaat tussen het tegen de koude aangeklede publiek en de performers met hun kwetsbare huid. Niemand danste mee, niemand zocht enige vorm van toenadering ondanks de vaak uitnodigende uitvoerenden. Is het dan toch iets van schaamte en onwennigheid dat de toeschouwer daarvan weerhoudt? Want dat is de paradox die aan het denken zet: zoveel intimiteit vlak om je heen en tegelijk creëert de toeschouwer zelf zoveel afstand.
Essay: Rehearsing Realities (Together)
…and as we gathered at the entrance of Frascati 1 – each of us bent over our phones, carefully watching and listening to the news – we entered a new lockdown together. This time, the theater remained open. As a last resort to come together. That is, at least for now. 
In these fragile times, we are asked to continuously negotiate our individual freedom to move, with solidarity and empathy for others. While it is impossible to predict whether and with how many we can share space next week, any idea of the future and even the very near future is put on hold. Under these conditions of both stasis and continuous adaptation, the theater as a space to collectively rehearse how we want to live together is extremely relevant.
Frascati Issues is a recurring series that investigates pressing social issues through Dutch and international performances, discussions, and other public formats. This edition of the series The Gathering focuses on what could be considered the essence of our humanity: coming together. But today, coming together means taking risks. For the theater itself, new measures and possible outbreaks may cause the program to end prematurely. The audience too is taking risks, even if weaponed with QR codes and covid regulations – that may change tomorrow. And finally, the artists are taking risks. Productions need to be adapted, performers may need to stay in quarantine, and shows may be canceled on the day itself.
Within this restricted world of constantly changing boundaries and behaviors, The Gathering explores and questions what it means to be human: individually and collectively. How to be together, apart, independent, interdependent, a body, with other bodies, in conversation, conflict, connection, or contradiction. And how to understand the forms of gathering that are fundamental for any society, from the parliament as a basis for democracy to the right to protest. Ultimately, each of the performances curated for The Gathering could be considered as a rehearsal: to question normalities, and to imagine other modes of togetherness.
"There can be no return to normal because normal was the problem, to begin with." This sentence appeared as graffiti in many cities during the first global lockdowns in 2020, and its position is exactly at stake in the artistic research project The Unalphabet by Studio Julian Hetzel. In open 'laboratory sessions', they investigate the contradictions of Western culture, where ethical principles are often not in line with economic interests, such as claiming to practice 'solidarity' on the one hand but practicing 'greed' on the other. Their first session looks at the power of language, starting with the alphabet, and how it can be a tool to shape realities. The Unalphabet instigates a letting go of fixed meanings and taken for granted knowledge. "Many words construct many worlds", states media researcher Evelyn Wan. What we consider as 'normal' is in fact constructed, and can be unpacked, unlearned, and reimagined.
A different kind of arena is staged in Habitat by Doris Uhlich, where a group of naked bodies walks into the room to take a position. For this performance in Amsterdam, Uhlich invited local residents to join and rehearse for a short period of time, leading to a group of 35 performers and a great diversity of participating bodies. Next to the group of naked performers, 140 bodies of audience members move freely in the space around, wearing clothes and face masks and blue plastic shoes that produce sliding noises across the floor. In a corner, a DJ (naked) starts a techno beat. The performers are assembled in groups forming powerful collective body statues. A little later, they come together, lying down as one connected body that shakes and shivers in the middle of the floor. The rave is on, with each performer now moving individually and having their own characteristic way of moving and shaking intensely. Soon after, their bodies cling back together in a collective dance. Then, they seek to support each other's body poses. To rave literally means 'to show signs of madness or delirium', yet also comes from the French word for dreaming. Experiencing Habitat is exactly this, as if waking up in a weird and highly energetic dream, surrounded by vibrating bodies that at times seem to be controlled by an external force (the DJ?), and at other times seem to enjoy their freedom of movement and room for individual expression. A kind of freedom that is moving: mentally as our freedom to dance and of movement, in general, has been limited and clubs have been forced to close during the pandemic, but also literally as the audience must practice avoidance strategies in order to make way for the fast and free movement of the performers. 
The choreography of Habitat celebrates a diversity of bodies, in all their materiality and fragility, in a gathering in overdrive. There is a sense of care and reciprocity: each body at times supports and is supported by others. While a rave is often about immersing and losing oneself in a collective mass, Habitat shows that each human body is individually significant and unique. The performance calls us to acknowledge everyone's distinctive desires, room for individuality, as well as to acknowledge the human need to be respected and included as part of a community.